TL;DR: Baby's first dead mall… where it all began.
Special thanks to Gruen Associates' archives for the concept art, early site plans, and 1971 slides.

History: With the wild success of the 1962-built Randhurst Shopping Center in Mount Prospect, Illinois: the Randhurst Corporation – a team of suits from Chicago department store chains Carson Pirie Scott & Co., Wieboldt Stores, Inc., and Montgomery Ward & Co. (who because of a nearby existing store since 1965: was subbed by the J.C. Penney Co.) set their sights further north for their second commercial and retail development: Lakehurst.
In 1968 the city of Waukegan annexed 200 acres of the former Edellyn Farms, near the intersection of Belvidere and Waukegan Road (IL-120 and 43). Construction of the center kicked-off less than a year later – lasting nearly two years. The architects were Sidney H. Morris of Chicago, and joining the Randhurst Corporation for a second time: pioneering mall architect, Victor Gruen Associates of Los Angeles.
Lakehurst – with Carson's, Wieboldt's, 100 retail stores, and over 5,000 people – celebrated its grand opening on August 19, 1971 in a ceremony emceed by Waukegan Mayor Robert Sabonjian, Miss Illinois, Miss America 1970 and others. JCPenney and its external Auto Center opened shortly after.
Centrally-located in Lake County, ultra-modern, and massive in size: Lakehurst dealt a devastating blow to both nearby Belvidere Mall, and downtown Waukegan – which for decades reigned as the retail hub of Lake County. The mall was decorated in an ultra-contemporary fashion with bright colors and mirrors throughout, and designed as a two-floor, four-wing cross meeting in a large, open main atrium for hosting events.
One of these wings – opposite of Wieboldt's – led to a dead end; a planned fourth anchor (rumored to be Bergner's or Sears) that never materialized, and remained a large grassy field for the mall's existence.
The anchor stores all featured two or more floors of retail space, with Carson's being the largest and undoubtedly flashiest of the three. Sporting vivid cream and salmon brick stripes, and bright red metal accents on the exterior: Carson's Lakehurst store was a wild departure from previous builds, and the third-known store in which Victor Gruen was involved (the first being the pentagon-shaped Woodmar store in Hammond, Indiana; and the original Randhurst store, the second). The contemporary styling continued inside with a centerpiece marquee-style, spiral lighting package in the store's escalator atrium, which featured bright-red handrails and mirrors galore.
Wieboldt's, whose Lakehurst store was the chain's northernmost, was styled in a more subtle fashion with tones of gray, tan, and oxidized copper awnings over the exterior entrance — echoing the chain's flagship store on State Street in Chicago. A concrete platform adorned with benches, and a canopy-matching gazebo elegantly concealed the store's loading docks on the lower level.
JCPenney – who had relocated from their pint-sized downtown Waukegan store on Genesee Street – was styled in typical corporate fashion, but is notable as being one of, if not the last store to open under the "Penneys" branding that was strongly pushed during the company's suburban expansion in the prior decade. With the passing of founder, James Cash Penney, in February 1971: the company would soon formally rebrand itself as the JCPenney name still known, today.
With the mall as its centerpiece: Lakehurst's development continued throughout the next 15 years, with dozens of freestanding buildings built around it for people to further shop, eat, play, and even live. These outparcels included:
a General Cinema triplex in 1974 , which expanded to eight, then maxed at 12 screens by 1987
a 32-lane, ultra-modern Brunswick bowling center in the late-70s, that was considered a flagship center to the Brunswick Corporation
Fun Harbour family entertainment center (go karts, arcade, mini-golf, etc.)
a Child World toy store
the Lakehurst Garden and Elmhurst Lake apartment complexes
a "Convenience Center" that included a Jewel-Osco grocery store, Ace Hardware, a liquor store and and many smaller stores in-between
Service Merchandise, a catalog showroom
Silo Electronics and an adjacent La-Z-Boy Furniture Gallery
Chain restaurants such as Pizza Hut, Red Lobster, Denny's and Olive Garden
Bank of Lakehurst (later a First Midwest branch)
Pier 1 Imports
Courtyard by Marriott hotel
Ownership changes 1982 brought infrastructure improvements, and a remodeling that subdued some of the flashier decor of the 70s, as well as added new fountains to the center court. The earliest signs of trouble, however, arose in 1986 with the closure of Wieboldt's – who soon filed bankruptcy and closed all 15 remaining stores. The sudden vacancy, however, became a godsend in the fall of '86 for teachers and students of flood-ravaged Gurnee Grade School and Viking Middle School; victims of the area's worst flooding of the Des Plaines River in 26 years. For the months that followed, the Wieboldt's building was adapted into a temporary school for over 600 students, who dubbed it "Wieboldt U".
Once repairs to the schools were complete, the lower level of the former Wieboldt store underwent a major renovation into Dunham Sports plus additional retail space, and Montgomery Ward relocated from nearby Belvidere Mall to the upper floor. Prosperity had returned to Lakehurst, however it would prove to be short-lived.
The opening of Gurnee Mills in 1991 sent Lakehurst into a death spiral from which it would never recover. Topping Lakehurst's retail space by 600,000 square-feet, and located only 15 minutes northwest in a centralized area of Lake County: few beyond (ironically) the Mills Corporation saw the two malls successfully co-existing – and their predictions were correct. Within six years, mall occupancy had dropped by half, and the worse was yet to come. In 1997 JCPenney announced it would close the underperforming Lakehurst store, and build anew at nearby Hawthorn Center. Shortly after: Montgomery Ward planned to shutter its Lakehurst store in a prelude to their first bankruptcy, and eventual liquidation in 2001. Both anchors were out by December.
Now running with only a third of its original anchor stores, and with both interior and outparcel stores fleeing in droves: in 2001 the Jacobs Group – then mall owners – threw in the towel and shuttered the mall interior as soon as its last two tenants'  (The Gift Tree and Barbary Coast salon – both original to the mall's opening) leases expired, leaving Carson Pirie Scott – still exactly as it appeared in 1971 – as the standalone survivor in what was becoming a cobweb-infested and run down retail ghost town under constant security watch.
Redevelopment proposals came and went in the years that followed; the most significant included conversion into the University Center of Lake County, that was ultimately built on the College of Lake County campus in nearby Grayslake. Two years passed before the entire Lakehurst property was finally sold to the Shaw Company, who pitched a complete demolition of the mall and many outlying, vacant buildings, to be replaced by a mixed-use retail and commercial development known as Fountain Square of Waukegan.
The early stages of demolition began in late-2003 on the JCPenney-side of the mall, while Carson's stuck around (hanging a big red "WE'RE OPEN" banner as demo equipment staged nearby) through the 2003 Holiday season. Shaw was in talks with Carson's to remain as part of the redevelopment, however the building proved to be in too poor of condition; needing a roof replacement. The store closed for good on the night of January 15, 2004; ending the 32-year Lakehurst-era.
---
Explore: There's some family history in this place: my mom (as her first job) and grandma both worked in various departments at Wieboldt's in the mid-70s.
Alas, I was born the same year as Gurnee Mills, so I admittedly missed Lakehurst in its prime. Growing up, my family was more-Hawthorn and Gurnee Mills shoppers, but some of my earliest memories originate from being pushed in a stroller or shopping cart on the upper floors of Lakehurst. I don't remember specifics, but I remember three distinct things from that time: the wood handrails, a lot of dark windows, and my dad saying something like, "this place is going to close, soon." In later years, I remember being driven past the mall going east on 120 (probably going to Casa Bonita, when it was still in Waukegan), seeing the stripes of Carson's in the dark, asking what that funny-looking building was, and my dad again saying "they're going to tear it down, some day". Yet again, however: the place's name slipped my memory.
For Christmas 2003, I was gifted my very first digital camera: an HP PhotoSmart 635. Compared to today's gear: it was a potato with garbage battery life that came bundled with a printer and clunky software, but hell: I was 12 and had a digital camera, dammit. Back then the power to snap a picture, and in 10 minutes' time: dump it to the computer and be able to share it online was pretty awesome. I was mostly doing that with my model rocketry hobby, Legos, and other things my dorky kid-self was in to.
Less than a month later: the headlines of the News-Sun read: "Last Days of Lakehurst" on the eve of Carson's closure. With those familiar stripes plastered on the front cover, I finally knew the name, I now knew some of the history, and was stunned at the concept of a shopping mall being this easily-disposable. I was fascinated, and badly wanted to go take pictures before the store closed. Unfortunately we never did.
In my newborn quest to know everything I could about the place: I also stumbled upon my new-favorite website: DeadMalls.com. I must have spent hours reading through it, state-by-state; becoming familiar with names, photos and histories of places like Regency Mall in Georgia (still abandoned at time of writing), the long-gone Mall of Memphis, Carolina Circle Mall, Tanglewood Mall (which has since been revived), and last but not least: the abandoned Dixie Square Mall in Harvey… the frequent explorations of which later became one of my better-known projects. Furthermore, my efforts to document the last day of Randhurst Mall in 2007, the end of Lincoln Mall over seven years later – both sister malls to Lakehurst, and all abandoned explorations can be traced to this initial curiosity.
Inspired by those entries on DeadMalls.com: Lakehurst would be the start of my first photography project, and in the weeks and months that followed – as I grew more and more fascinated by the ghosts of retail past: my mom and I returned a number of times to loop around the site, photographing the demolition progress. These images were then (crudely) edited and uploaded to the old Yahoo Photos service, and also posted on one of my earliest Geocities websites – which was devoted to the mall. When Yahoo Photos shut down in 2007, I began uploading new and some old work to my current Flickr account – however due to the poor quality of the images, I didn't bother migrating more than two or three of the most-polished turds from this set, there.
So that all out of the way: enjoy this weird trip back into my first-ever photography project. I'm re-uploading these as they have not been seen in a decade, and save for what was on the now-M.I.A. LakehurstMall.net website by Nicole Yugovich: photos of Lakehurst are pretty hard to come by as it is. I've gone through and tried to restore these images as best I could, but they're about as good as they get considering how badly my kid-self butchered them. You'll have to forgive the funky colors and odd crops… some were cropped to the point where this time I didn't bother trying to fix them.
---
February
These were taken on February 15th – eight days after the prior two photos were taken en route to the Auto Show.
A giant, derelict sign welcomed you to the Lakehurst area. The side facing eastbound 120 was missing the "La" letters for years, and about half of the other side was completely blown-out. Behind it is the former Silo Electronics, which had since become a Powerhouse Gym. Next door was the vacant La-Z-Boy Furniture Gallery.
The backside of the mall, where the fourth anchor would have been built, was the first sign of destruction as you drove along the west side of Lakehurst Road – the mall's circle connecting 120 and 43. Even today, I do wonder if the mall's fortunes would have been different had this mystery store been built.
Most of JCPenney had already been obliterated by then. Only its lower level parking lot entrance and mechanical penthouse were left.
Demo work was ongoing in the parking lot between Penneys and the Wieboldt's anchor.
…and we left with a last look at Carson's, which on the outside appeared unscathed until you saw the break in the stripes just right of the torn "We're Open" sign. All of the anchors had openings punched through the second floor walls so crews could push debris out into the parking lot while they gutted the buildings. A place this big, and still of fairly-new construction could only really be demolished efficiently from the inside-out.
---
March
We swung back around in early-March, and by this point things were looking really ugly.
Penneys had long-since ate it, and now it was Wieboldt's turn. The canopies were already gone, and most of the exterior walls had been stripped away, revealing an empty skeleton.
We actually spotted one of the store's escalators resting in the parking lot – a bit rough, but completely in tact. I'm surprised they didn't merely cut it apart on-site.
From the street you could really see into the mall, now – straight down from the former Penneys entrance to Carson's.
Surprisingly, the lower level mall entrance by Carson's was still unscathed despite the interior being completely gutted. You can also get an idea of how big Carson's really was, from this view.
Another last look at the Carson's building, before demolition shifted into this area.
By the end of the month, demolition crews were kicking its pretty face in, and had torn up most of the parking lot.
The mall itself was also stripped to a bare skeleton at this point.
Light poles in the parking lot also began coming down as the asphalt was scraped and ground-up. When Lakehurst opened, each lot was color coded to match its nearest mall entrance, so shoppers could later find their cars. Except for the lower level mall entrance by Carson's: the colored entrance signage was removed in the 1980s remodeling, but the parking signs remained.
The gazebo by Wieboldt's also remained standing for some time after the store disappeared, leading to speculation it would be saved as part of Fountain Square. Unfortunately that has proven to not be the case.
A pretty clear shot of the naked mall interior. The only distinguishable features left were the center court's two escalators and some of the upper level hand railings.
The backside of Carson's was turned into Swiss cheese while workers removed the roof panels and trusses.
The last of the canopies and store entrances were being stripped away. This would be the last time the store looked fairly recognizable.
On a whim, I also snapped the Lakehurst Road exit sign as we were leaving the area, thinking the street may be renamed in the future. I was partially right – the south and western half of the former mall circle is still Lakehurst Road, but the north and east half has been renamed Northpoint Boulevard.
---
April
Work slowly progressed on Carson's over the next couple weeks, and when we came back on April 17 there was still quite a bit of the store left. This would be the last time we saw the mall structure – I believe the second floor had already been dropped, at this point.
Six days later: the last of the mall interior had been toppled, and the last recognizable pieces of Carson's were on their way out. Only a battered Carson Pirie Scott & Co. sign identified what once-was.
---
May
Another six days later – now entering May: the stripes and signs were gone, and only parts of a steel and concrete skeleton remained.
On what would be a stormy May 22, we returned for the last time to find nothing but an empty dirt field. Lakehurst was gone. Lucky me, I found a friendly Waukegan cop sitting by the site entrance at what was originally JCPenney's loading docks, who took me onto the site and let me take a few bricks and chunks of the store's terrazzo floor. Whoever you are, thanks again.
---
August
I flew over the site during a ride-along at the Waukegan Air Show. The earlymost stages of the Fountain Square redevelopment were beginning to appear: a road about to be carved through the site connecting Greenleaf to Waukegan Road. The retail development has since been built on both sides the road – known as Fountain Square Place.
---
Today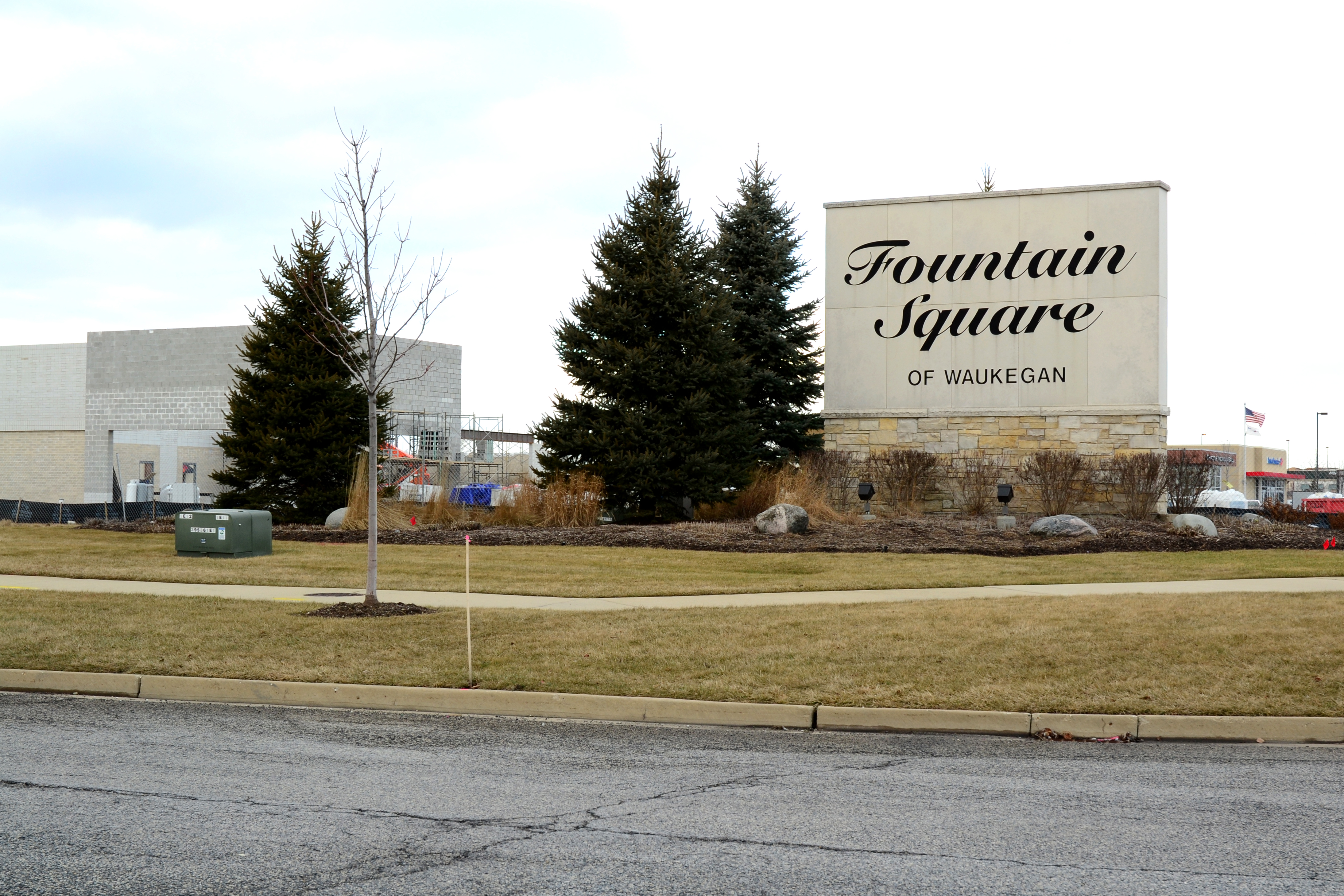 Almost thirteen years later, the area is alive and well with dozens of chain stores, restaurants, hotels and entertainment venues occupying both new structures and some of the former outparcels built when the mall was in its prime, keeping the site busy practically 24 hours a day. The commercial development in the area exploded once a Walmart Supercenter opened in mid-2006, and even now there is still ongoing construction at the site.
Elsewhere some of the older retail buildings are still being repurposed or redeveloped. The Lakehurst Convenience Center, which lost both its Ace Hardware and Jewel-Osco anchors after the mall was torn down, has largely met a similar fate…. replaced by an LA Fitness on the Jewel site, and a new Hampton Inn will start construction on the rest of the site, soon.
The old Service Merchandise became home to the Sundance Saloon country nightclub when it relocated from Mundelien several years ago. Despite some of the lingering signage, however: last year it was rebranded as Lakehurst Banquets and it remains fairly active as an event venue.
Fun Harbour's old building is also now a banquet hall and private theatre known as Milan. The mini-golf, batting cages, and gokart track was paved-over for parking, as the entrance was moved to the north side of the building when the city built a giant water tank directly in front of Fun Harbour's entrance.
BRC Lakehurst – the 1980s pride of the Brunswick Bowling & Billiards Corporation – was rebranded Brunswick Zone in the '90s, and acquired by BowlmorAMF when Brunswick completely left the bowling industry in 2014. It was just given a fresh red paint job, and will eventually be rebranded under the Bowlero name.
Some of the later Lakehurst-era grit still lives, though. The 12-screen theatre, which was closed amid the General Cinema bankruptcy and re-opened in 2002 by the Village Entertainment chain (yet retaining all GCC signage), was condemned by the city in early-2007 for code violations, and torn down that summer. A Holiday Inn Express was subsequently built behind it. The site itself is still empty, while a covered-up sign along Waukegan Road serves as a vague tombstone to what was falsely-toted in 1987 as having the most theater screens in America. (Since the original publishing of this article, an Aldi grocery store has risen in its place.)
Further north is the old Child World toy store, which to my knowledge was never re-occupied by retail after the chain folded in the early-1990s. In the mid-2000s it was briefly used as a film studio, and even served as a stand-in Lakehurst Mall entrance in the to-be-released (someday) movie, "5-25-77"; set in the Wadsworth/Gurnee/Waukegan area. Today it's a completely abandoned, empty shell – the interior stripped clean late last year.
A considerable portion of the former mall site also sits empty – the land owned by the City of Waukegan, who was trying to land a Harrah's casino right after the mall was torn down. The casino idea is still alive as of last year, however the only recent activity has been the field's use as makeshift parking for a nearby golf tournament.
Despite this: that's still a load of room for future development, and if Fountain Square symbolizes anything: it was the start of Waukegan's rebound from years of decline – partially caused by Lakehurst, itself. Since the mall fell: the Genesee Theatre was restored, the Waukegan Harbor has been declared clean after OMC dumped PCB's into Lake Michigan, the rusting industrial sites along the lake are gone and almost ready for redevelopment, and downtown is on the upswing with regular events such as ArtWauk bringing to town new people, business and things to do.
---
Memories
Beyond the remaining portion of Lakehurst Road: little remains at the site marking its past life. For old-school locals, however: the area is still often referred to as Lakehurst, and to this day many share fond memories of growing up at the mall – often bringing up the Aladdin's Castle arcade, Joker's Wild, The Gift Tree, Orange Julius, Wimpy's, when Circus Vargas came to town in '86, buying concert tickets at TicketMaster inside Carson's, seeing movies at the General Cinema, and more from it's heyday.
It's not known what happened to Lakehurst icons such as Scotty the Talking Christmas Tree (an interactive holiday fixture of Carson's for many seasons), the abstract art hanging from the ceilings of the center court, and others relics. However, one physical piece of the original mall does survive today; the result of some rounds of phone tag and early mad negotiation skills by my then-15 year-old self.
When the big Lakehurst sign on Greenleaf and Belvidere was finally taken down in February 2007: I was connected with, and able to strike a "if you can move it, you can have it" deal with the sign company contracted for its removal. Of the two seagull insignias – the mall's logo – at the top of the sign: one survived the dismantling unscathed, and today it's a 6×6′ fixture of my residence – occasionally returning to Waukegan for special events. Long-term plans call for it to be donated to the Waukegan Historical Society.
---
Like what you've seen or learned? Buy me a coffee or visit our pop-up gallery during ArtWauk!